During this year's legislative session, Utah Senate President Stuart Adams and the rest of the Senate honored student artists from throughout Utah, including a Navajo student who attends Whitehorse High School.
Leyonah Endischee, a freshman, entered the Utah State Senate Visual Arts Competition after being encouraged by her art teacher, Georgiana Simpson. Endischee ended up placing third, which earned her a trip to the Utah State Capitol and $1,000 for a 529 education savings account.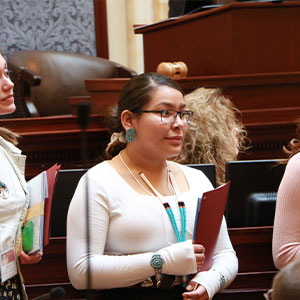 Endischee, who was also honored from the Senate floor along with the other finalists, described her painting as a mixture of modern anime and traditional styles.
"Through her artwork, she wanted to showcase how the Navajo Code Talkers helped during World War II while also incorporating her cultural heritage into a modern art form."

You can read the full story about Endischee on the Navajo Times website. It was also published in the San Juan Record. The story was written by Rozanna Benally-Sagg, a program manager for the Utah Office of Multicultural Affairs and also a graduate of Whitehorse High School.
Header picture: Navajo artist and Whitehorse student Leyonah Endischee with art teacher Georgiana Simpson in front her painting. Photo credit: Todd Anderson, Utah Department of Heritage & Arts.